LONDON – "Hey dude, who is the guy sitting over there?" "I don't know! Shake your phone!". A little more time and it will be a new way to make new friends. That's a Corso12's idea, an italian startup, today at London Leweb.co since it has been chosen as one of the finalists among 350 startups. We usually use traditional social profiles to find people chatting or watching picts, first of all Facebook. Next time we could use Sh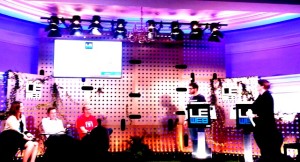 akeChat,  a new app for iOs and Android, that with a simple gesture, shaking our mobilephone, will link us to other people and it'll be a done deal.  How does it work?
"We would like to propose the simplest, safest and funnest way to make new friends" said Massimo Scarpis (on right), co-founder of Corso12, with Andrea Giavotto, Silvio Daminato, Giacomo Veronelli e Lorenzo Demaio.  "ShakeChat is about chatting and meeting new friends from all over the world or around you, simply shaking your phone" said Massimo. "On ShakeChat you can chat by text, taking pics of you and your life and enhancing them thanks to the embedded photo filters and eventually share them on Facebook".
To signup you have to use your Facebook account (the app won't download anything from it). (A.A.)
Officile website www.shakechat.com