LONDON – When we thought about wearable technology, we couldn't imagine a toothbrush. Instead now we should change our idea about what is possible to wearable and to link to World by Internet. Not only glasses or watches, not only jackets and shoes and gloves but also a simple toothbrush. And obviously via Bluetooth.
In fact, Dental hygiene company Oral-B announced its Bluetooth-connected electric toothbrush line, SmartSeries, which will be available in Germany this spring and in the United States in June. The Oral-B companion app will be available in iOS in May, and in Android in August. Oral-B will also add connectivity to some of its other electric toothbrushes. SmartSeries will offer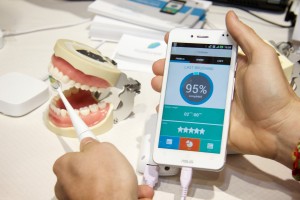 users six different brushing modes — daily cleaning, deep clean, whitening, gum care, sensitive, tongue cleaning — so that users can personalize their brushing experience with their dentist. The app starts a timer when the user begins to brush and leads the user through whichever brushing routine suits their needs and will immediately alert users when they apply too much pressure while brushing. Users can see a graphical view of their brushing performance over time. Oral-B is the first prominent dental health company to come out with a connected toothbrush, but some smaller startups have been working on this technology for a few years.
At this year's CES, another company, Paris, France-based Kolibree, launched a connected toothbrush. Unlike Beam Brush, which is a manual toothbrush, Kolibree's offering is electric. According to the company, the sensors in the brush detect not only how long you brushed your teeth, but also whether you hit all the hard to reach places between gums and teeth. The brushing data will also be available via an API, so third party developers can build games or other applications that use the smart toothbrush. (A.A.)
http://www.youtube.com/watch?v=lRvYQXruyKk